While the new year will see many attempt to turn over a new leaf, it seems certain old habits die much harder than others – especially when it comes to beauty.
According to Transform, cosmetic and non-surgical cosmetic procedures will still be very much en trend in the UK in 2014.
"There is a growing awareness of the different types of surgery available to people, coupled with the increasing desire to look and feel at your best," says Shami Thomas from Transform. "Patients come to us as they want to feel good about their bodies and surgery can help them, and ultimately improve their self-confidence.
"Whilst surgical procedures are still very popular, it's the non-surgical procedures that are proving to be a key theme and this trend is set to continue into 2014 and beyond."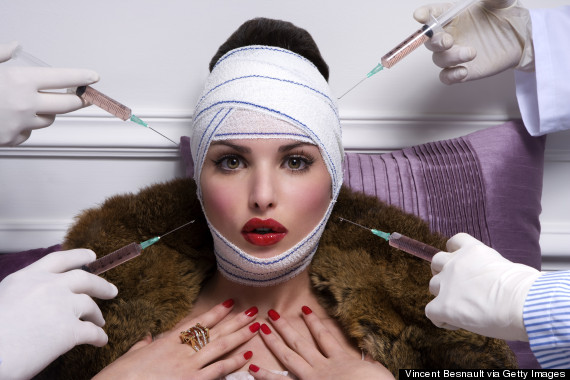 Here are Transform's predictions for the hottest cosmetic surgery trends for 2014:
Breast Surgery
Responsible for over 80,000 breast augmentations, Transform shines the spotlight firmly on society's fascination with women's twin peaks and suggests that the allure of boobs – whether to have them bigger, smaller or more pert – will continue to be one of the most popular cosmetic procedures in the UK. Welcome news for a country that is united in its love for all things boobilicous.
Chin Implants
Women will continue to aspire to capture Hollywood glamour and opt to have chin implants – a procedure revealed in 2013 to have been undertaken by movie starlet, Marilyn Monroe. The procedure adds definition and balances facial features, producing instant and significant changes in the profile of patients – serving to inject a new bout of confidence into those with a weak or receding chin.
Enquiries for chin implants have doubled since 2010, with 60% of queries coming from women wishing to alter the silhouette of their faces and Transform expects the desire for a striking and defined chin to continue far into 2014.
Tummy Tucks
For those who've been left with excess skin after losing weight or following having a baby, a tummy tuck or abdominoplasty is fast becoming the solution for many unconfident Brits. For those left hanging with stretched skin, and weakened muscles, this is fast becoming one of the most popular procedures as it takes away loose skin and tightens up the muscles. And 2014 is sure to see a continued rise in people wanting to fold up their saggy skin and opt for a slimmer, more toned tummy.
Brachioplasty or 'Bingo Wing' Surgery
Brachioplasty is the removal of excess, aging skin from the upper arms – often referred to as 'bingo wings' and gives tighter, more toned and youthful arms. An ever increasingly popular treatment among mature ladies who feel self-conscious about their 'flappy' upper arms or for those who have lost significant amounts of weight and want to tighten up the skin.
Vaginoplasty
The quest for a 'designer vagina' has intensified, with labiaplasty and vaginoplasty amongst the UK's fastest growing cosmetic surgery procedures.
Labiaplasty is a surgical procedure to reduce the size of, or reshape, the labia minora – either for medical or aesthetic reasons – while vaginoplasty 'tightens' the vagina, a procedure that is particularly popular among women who have given birth.
Transform reports that enquiries for the procedures have grown from 2,400 in 2010 to over 3,500 in 2013. Such results suggest that more and more women will feel empowered to undergo a vaginoplasty procedure in the coming year – and this is certainly set to be the surgery on everyone's lips in 2014.
Source:
http://www.huffingtonpost.co.uk/2014/01/02/cosmetic-surgery-popular-procedures-2014_n_4530181.html